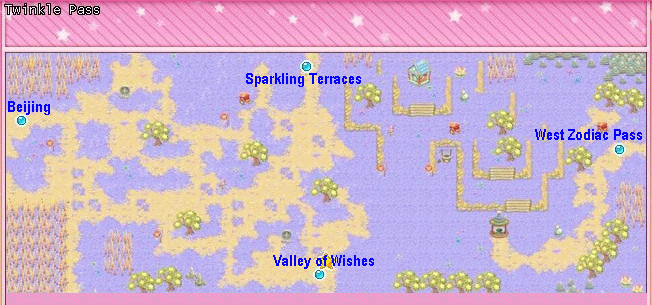 A crossroad you will often cross when questing for NPCs in Beijing. Be careful because this area is full of lively creatures. You may also need crystal petals rather often for your endgame.
Punch Bunny (Level 25), drops: punch bunny's luck (11$), punch bunny's bandage (6$), punch bunny's charm (14 $)
Turple (Level 24), drops: turple's defense (8$), turple's essence (11$)
Pandachi (Level 26), drops: panda's chi (6$), panda's present (13$), panda's comfort (18$)
Plucking/Gathering + Woodcutting:
Bamboo (12): bamboo, short sticks, withered leaves, bamboo fibers, sharp leaves
Golden moonstalk (12 ): moonfruit, dry stalk, withered leaves, withered fruit, golden splinters
Plucking/Gathering:
Florapod (12): sweet nuts, shrivelled leaves, withered leaves
Mining:
Crystallized rose (12): crystal petal, jet, small red pebbles
Maps
Ad blocker interference detected!
Wikia is a free-to-use site that makes money from advertising. We have a modified experience for viewers using ad blockers

Wikia is not accessible if you've made further modifications. Remove the custom ad blocker rule(s) and the page will load as expected.