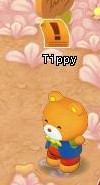 You can find the bear Tippy ingame in HKO in West Sun Land not far from Paris. He needs some stuff - his mail for instance.

Tippy is kind-hearted, but also strong. He is a rather big bear and he is not only a good friend of Hello Kitty, he also wants to be her boyfriend and beau.

His location in 2008 already was in West Sun Land (close to Paris).
Ad blocker interference detected!
Wikia is a free-to-use site that makes money from advertising. We have a modified experience for viewers using ad blockers

Wikia is not accessible if you've made further modifications. Remove the custom ad blocker rule(s) and the page will load as expected.