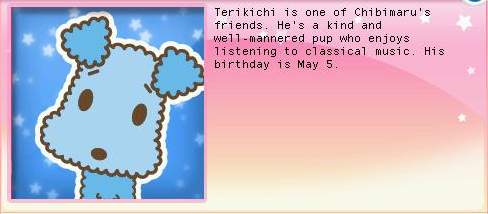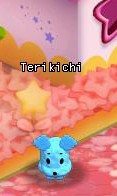 You can meet Terikichi ingame in HKO in Beijing, not far from the Farm Market. He knows what is going on in the city and can tell you what to do to wake up one of the sleeping guys in Beijing.

Terikichi was born on May 5th. He is friends with Chibimaru and adores Mameta, a Labrador Retriever, as a smart, kind and even amazing "dog among dogs". Terikichi resides in the living room of a well-respected household and is well brought-up.

This dog is kind and gentleman-like; he even loves listening to classical music the most. But he is not level-headed, but also likes to stroll through the park where everyone gathers and is good friends with the other dogs there.
Ad blocker interference detected!
Wikia is a free-to-use site that makes money from advertising. We have a modified experience for viewers using ad blockers

Wikia is not accessible if you've made further modifications. Remove the custom ad blocker rule(s) and the page will load as expected.