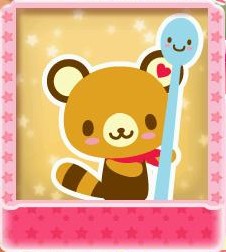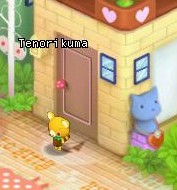 You can find Tenorikuma (Latte) ingame in HKO in London close to the East Entrance (right side) of London and next to the Farm Market. He will need your help with some cooking.

"Tenorikuma" is not only one, but a group of seven brown animals with striped bushy tails, called: Latte-kun, Frap, Mister Steam (a ghost living in a drink), Maple-chan, Chai-kun, Macchiato-kun and Muddler, also called Frappe-kun.

They are either Red Pandas or Racoons (but without face-masks). On the other hand they are very small - only 4 cm in height, and might fit into a human palm. Sanrio says, that a Tenorikuma is "a bear in a hand". But despite their size the Tenorikuma work very hard, which makes them look especially adorable.

The Tenorikuma say that they are able to make the best coffee ever, and they are saving their money to open up their own café in the future, called "Tenorikuma" of course. Latte has a heart on his left ear, wears a red scarf, and is the main "manager". Macchiato wears a blue scarf, Chai wears a yellow scarf, Maple is the only female, has a pink scarf and is Latte's love interest, Mister Steam consists of steam-clouds rising from hot coffee, and Muddler is a spoon.
Sanrio Designers devised the Tenorikumas in 2005 with their own movie and a whole merchandise-line.
Ad blocker interference detected!
Wikia is a free-to-use site that makes money from advertising. We have a modified experience for viewers using ad blockers

Wikia is not accessible if you've made further modifications. Remove the custom ad blocker rule(s) and the page will load as expected.