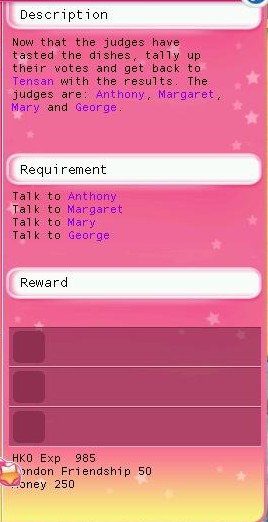 Quest Name: Tally the Votes
NPC that Starts Quest: Tensan
Description: Now that the judges have tasted the dishes, tally up their votes and get back to Tensan with the results. The judges are: Anthony, Margaret, Mary and George.
Quest Walkthrough
Edit
Talk to those four, then return and talk to Tensan.
HKO EXP 985
London Friendship 50
Money 250
Ad blocker interference detected!
Wikia is a free-to-use site that makes money from advertising. We have a modified experience for viewers using ad blockers

Wikia is not accessible if you've made further modifications. Remove the custom ad blocker rule(s) and the page will load as expected.