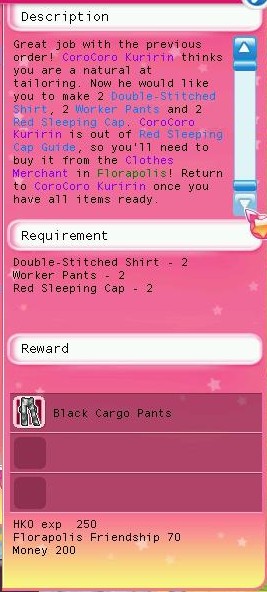 A tip: you can buy simple cloth, simple thread, light cloth, wooden button and blue dye at the Material Merchant either in London or Paris with ingame-money. You will have to produce the rest by yourself though.
Warning: Very material-heavy and slightly costly
Given by: CoroCoro Kuririn
Double-Stiched Shirt
Edit
Materials
Instructions
Worker Pants
Edit
Materials
Instructions
Red Sleeping Cap
Edit
Materials
Note: if in italics, it means that these items are not necessary since there should be leftovers from the items produced from earlier
Instructions
Produce 6 x Bolt of Simple Cloth from 12 x Boxpig's Comfort and 6 x Pinbee's Frills
Produce 5 x Bolt of Light Cloth from 5 x Bolt of Simple Cloth and 5 x Chainworm's Bandages
Produce 5 (or 10 if none left) Simple Thread with 5 (10) x Damaged Cobwebs and 2 (4) x Fragmented Branch
Produce 2 x Red Dye from 4 x Mulberry , 4 x Clean Spring Water and 4 x Clay
Produce 2 x Red Sleeping Cap from 4 x Bolt of Light Cloth , 6 x Simple Thread , 2 x Red Dye and 2 x Needle
HKO Expo 250
Florapolis Friendship 70
Money 200
Ad blocker interference detected!
Wikia is a free-to-use site that makes money from advertising. We have a modified experience for viewers using ad blockers

Wikia is not accessible if you've made further modifications. Remove the custom ad blocker rule(s) and the page will load as expected.