Start NPC:
Cupid
in
Paris
.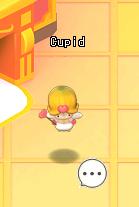 Cupid Says:

"This is my last plea, dear friend
The Last request I'll be making you
Match couples, follow the trend
Bring back love that's true

London, Paris, even Florapolis
Bring back star-crossed lovers, please?

A point of exclamation you'll see
When you hear a lover's plea

A not of thanks will be given
When dots of lovers connect

Five of these I need
To finish the matchmaking deed."

Requirement: 5 Thank you Letters
Reward: HKO Exp 9,000; Money 15,000; Paris Friendship 3,000; 5th Day Key

The five couples are:
1. Piano and Harinezumi, both in Paris

2. Coro and Daisy, both in Florapolis

3. Chum and Tippy, both in London

4. Melody and Pochacco, both in Paris

5. Fifi and Chippy, both in London
Ad blocker interference detected!
Wikia is a free-to-use site that makes money from advertising. We have a modified experience for viewers using ad blockers

Wikia is not accessible if you've made further modifications. Remove the custom ad blocker rule(s) and the page will load as expected.