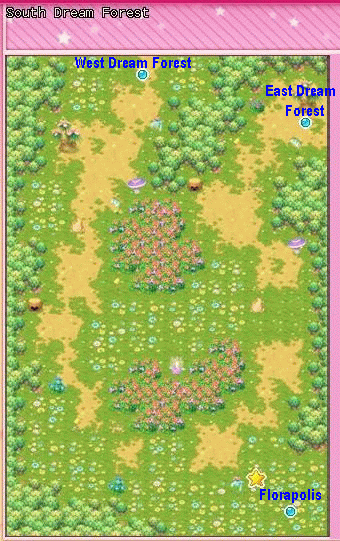 You will be sent to South Dream Forest to collect honey from Pinbees and also their frills to make cloth, as well as boxpig's comfort to craft the simple cloth with. For honey you might like to take a look at East Dream Forest at the next map, because dartbees also carry honey.

You may need a lot of simple cloth to make light cloth from as you keep on questing in Florapolis. If all the whacking of pinbees and/or boxpigs gets too annoying for you, you should try to take a trip to London! You can buy honey there at the Food Shop and also Light Cloth from the Material Merchant.
no NPC hanging around here in 2009/2010 (different from the Beta 2008)
Pinbee (Level 4), drops: pinbee's fury (2$), pinbee's frills (crafting-material to make simple cloth, 2$), precious honey (food 5 action points, cooking-ingredient, 2$)
Boxpig (Level 4), drops: boxpig's appetite (2$), boxpig's comfort (crafting-material to make simple cloth, 2$)
Angry Boxpig (Level 8), drops: boxpig's treasure (20$), boxpig's energy (4$), boxpig's squeal (3$)
Woodcutting:
ivory wood (3): ivory wood, strong ivory wood, golden ivory wood
Maps
Remember: if you should manage to get a pet-card, keep it, even if you don't want to foster a pet right now! If you can manage to get a squeet-card too you can choose to breed a boxpig it with a a later on in Paris. A pinbee card is even more useful as there are even two new creatures to be bred with pinbees in Paris. For this you will either need a skorpin-card or a webley-card.
how it has been in the Beta 2008
Edit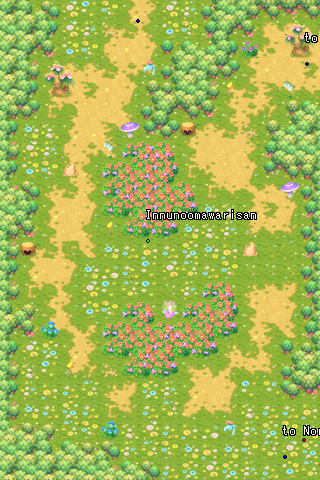 NPCs
Creatures
Teleports
Resources
Ad blocker interference detected!
Wikia is a free-to-use site that makes money from advertising. We have a modified experience for viewers using ad blockers

Wikia is not accessible if you've made further modifications. Remove the custom ad blocker rule(s) and the page will load as expected.