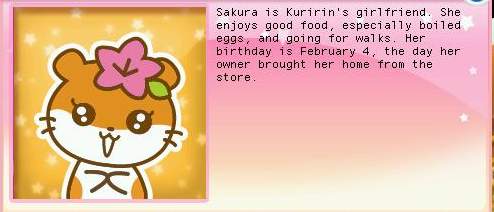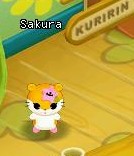 You can find Sakura ingame in HKO in Kuririn's Coffeehouse in Florapolis. She will ask you to help her gather materials and hand out invitations to be able to open her coffee-shop.

Sakura is CoroCoro Kuririn's girlfriend and recently they had 7 children together. Sakura came to her owner's house on February 4th but was probably born in a pet shop. She loves good food - boiled eggs most of all. Sometimes she eats too much and has to go on a diet.

This cute little hamster girl is gentle and friendly, as well as laid back. Sakura can recognize others when listening to their footsteps coming closer. She likes to go for walks and also to climb up high.
Ad blocker interference detected!
Wikia is a free-to-use site that makes money from advertising. We have a modified experience for viewers using ad blockers

Wikia is not accessible if you've made further modifications. Remove the custom ad blocker rule(s) and the page will load as expected.