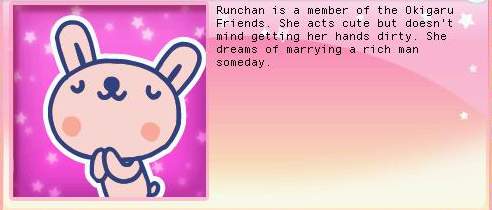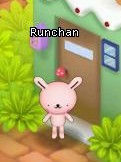 Runchan belongs to the "Okigaru Friends" and can be found ingame in HKO in London - between the station of Sunbright Express and the Farm Market.

Runchan is a girl. She wants to marry a rich man in the future and acts cute to make guys fall for her. But in reality she doesn't mind getting her hands dirty to get what she wants or to do what is needed.

The Okigaru Friends were devised by Sanrio designers in 1998. The names for the various Okigaru Friends members were decided by public vote Sanrio organized for them.
Ad blocker interference detected!
Wikia is a free-to-use site that makes money from advertising. We have a modified experience for viewers using ad blockers

Wikia is not accessible if you've made further modifications. Remove the custom ad blocker rule(s) and the page will load as expected.