You can meet Panya ingame in HKO in Sanrio Harbour close to the Harbour next to the path. Like Buppi, Wanwa, Sora and Nyako, she's one of the close friends of Usahana. You can take a look at Usahana and her friends on this - japanese - website: [File:http://www.sanrio.co.jp/characters/usahana/index.html]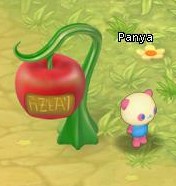 As you can see, Panya is a pink and white Panda. It is not identical to the Sanrio-characters Pantan (Pannapitta) nor Pandapple. Panya also is the Japanese name for a bakery. Pan means "bread" in Japanese and is taken from a Portuguese word.

There are quite a few characters from other companies than Sanrio that feature characters with "Panya" in their name, like a burnt bread or a bread-baking cat living in the forest.

Panya was the first quest-giver you would meet when you came to Sanrio Harbour dock in the Beta 2008.

Related quests in 2008: