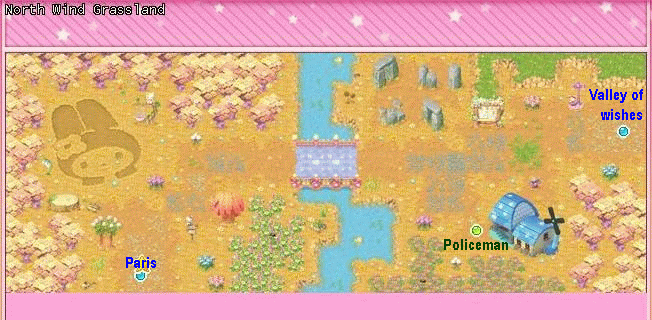 A more peaceful place to collect nightshade, marble and bamboo-materials then South Wind Grassland. But troffles and sequoyas are still aggressive creatures, so search for untroubled spots to collect ressources.
Policeman (not known as "Innunoomawari-San" anymore)
Mining:
crystal vein (6): pure crystal, dirty crystal, sun stone, glossy stone, crystal fragments
Fossil rock (6): sun stone, amber, marble, fossil, colored fossil
Woodcutting:
Goat bamboo (8): goat bamboo, moso bamboo, soft bamboo hair, shell bamboo caterpillar
Plucking/Gathering:
Black nightshade (7): black nightshade, knowledge leaves, withered nightshade
Maps
as it has been in Beta 2008
Edit

NPCs
Creatures
Teleports
Resources
Ad blocker interference detected!
Wikia is a free-to-use site that makes money from advertising. We have a modified experience for viewers using ad blockers

Wikia is not accessible if you've made further modifications. Remove the custom ad blocker rule(s) and the page will load as expected.