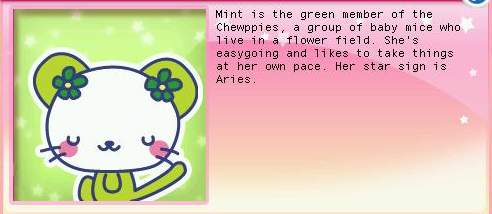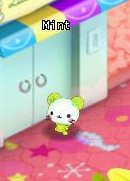 You can find Mint close to the entrance of Beijing in front of a small house. She will ask you for help.

Mint is one of the Chewppies, a group of tiny baby mice who normally live in a flower field in a candy-forest. Mint is best friends with Berry, Soda, Gray and Lemon - all of them are in Beijing on Sanrio Land in HKO. The all love to dance in the flowerfield and sing together. Mint is easygoing, lives at her own pace, and her Star sign is Aries.

The Chewppies were brought to life by Sanrio designers in 2001.

There is also another character of Sanrio who is called "Mint", it's a frog and friend of Purin.
Ad blocker interference detected!
Wikia is a free-to-use site that makes money from advertising. We have a modified experience for viewers using ad blockers

Wikia is not accessible if you've made further modifications. Remove the custom ad blocker rule(s) and the page will load as expected.