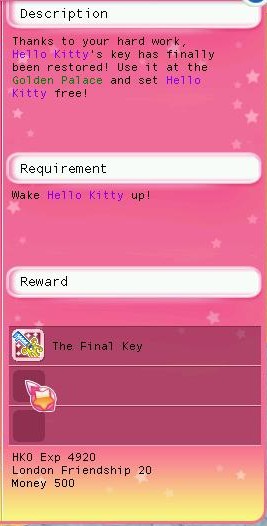 Quest Name: Hello, Kitty
NPC that Starts Quest: Lala
Description: Thanks to your hard work, Hello Kitty's Key has finally been restored! Use it at the Golden Palace and set Hello Kitty free!
Quest Walkthrough
Edit
Go back to London. You can figure out the rest.
After you complete this quest, you decide what to do next.
There are quests scattered over Sanrioland that you might've skipped or missed, including the time-consuming Pet Hunt quests.
HKO Exp 4920
London Friendship 20
Money 500
Note: The Final Key is an accessory for your char. This confused me when I got it as I thought I've unlocked all of the doors.
Ad blocker interference detected!
Wikia is a free-to-use site that makes money from advertising. We have a modified experience for viewers using ad blockers

Wikia is not accessible if you've made further modifications. Remove the custom ad blocker rule(s) and the page will load as expected.