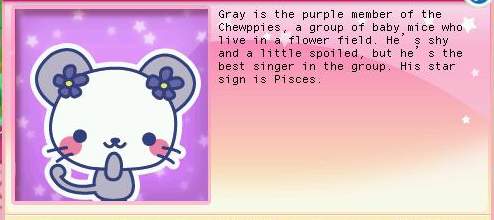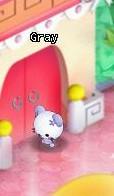 You can find Gray ingame in HKO in Beijing in front of a house not far from the Banana Theatre. She will provide you with quests of course.

Gray is one of the Chewppies, a group of girl-friends living in a flower field within a candy-forest. These little mice love to sing and dance everyday in their flower field. Gray's best friends are called Soda, Mint, Berry and Lemon. Gray is the best singer and a little spoiled, but also shy. Her Star Sign is Pisces.

The Chewppies were devised by Sanrio designers in 2001.
Ad blocker interference detected!
Wikia is a free-to-use site that makes money from advertising. We have a modified experience for viewers using ad blockers

Wikia is not accessible if you've made further modifications. Remove the custom ad blocker rule(s) and the page will load as expected.