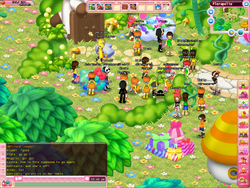 GM Toss is a recurring event in Hello Kitty Online. To date it has taken place four times, each in 2009; these were on October 30 in Florapolis, on November 1 in London, on November 3 in Florapolis once again, and on November 5 in Florapolis. GM Toss was created by GMPirate.
Objectives
Edit
During the player's turn, they will be followed by the participating Game Master. The player's objective is to have the GM pass through a doorway via its arrow, without going through the doorway themselves.
Players who successfully "toss" the Game Master through a doorway without going through as well receive 50 Birthday Tokens. Players who fail to send the Game Master through the doorway before going in themselves, or who send themselves as well as the Game Master through the doorway receive 10 Birthday Tokens for their effort. As a special offer, on November 3, 2009, GMPirate gave away 60 Birthday Tokens to players who could send her through the doorway.
Locations
Edit
Ad blocker interference detected!
Wikia is a free-to-use site that makes money from advertising. We have a modified experience for viewers using ad blockers

Wikia is not accessible if you've made further modifications. Remove the custom ad blocker rule(s) and the page will load as expected.