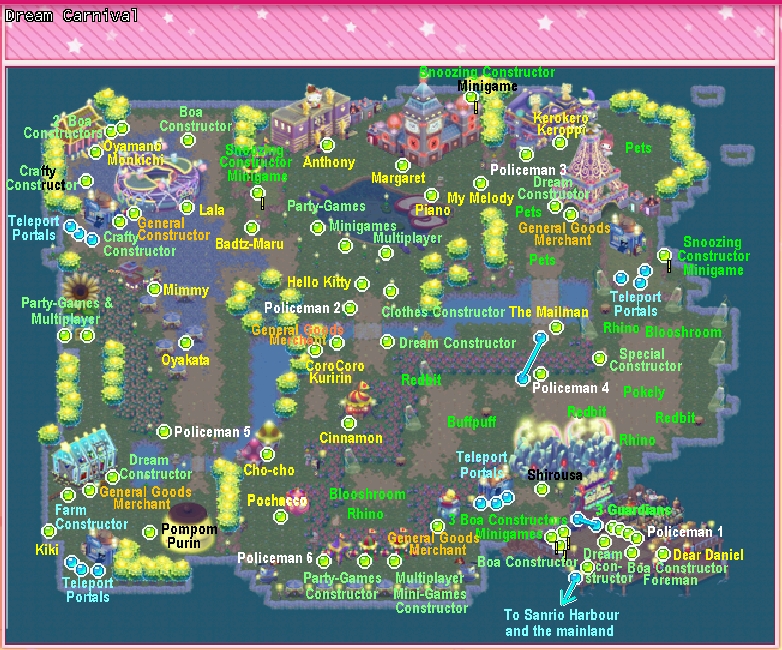 The Dream Carnival is the first area you will experience after starting with Hello Kitty Online. It's considered to be a "dream" your character is having before even entering Sanrio Land and having to wake up Hello Kitty and her friends. It is also a "tutorial area" to get you acquainted with the gameplay of HKO. However the game-experience here is quite different from what you will have while playing on the mainland though...
maps
Attention! You cannot come back here with this character after leaving the Dream Carnival to the "mainland" Sanrio Land, starting with the area Sanrio Harbour
houses There are no buildings that you can enter on the Dream Carnival, only your own farm after talking to the Farm Constructor
teleports
Gathering:
[[ ]] (1): (lvl ) price at merchants:
Woodcutting:
[[ ]] (1): (lvl ) price at merchants:

Gathering & Woodcutting:
[[ ]] (1): (lvl ) price at merchants:

Mining:
Notes and Hints
Edit
Ad blocker interference detected!
Wikia is a free-to-use site that makes money from advertising. We have a modified experience for viewers using ad blockers

Wikia is not accessible if you've made further modifications. Remove the custom ad blocker rule(s) and the page will load as expected.