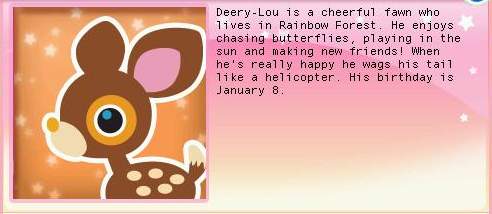 You can meet Deery-Lou "The cheeful fawn" ingame in HKO in Beijing in the western part of the city (on the left side of the map). He can help you with making a "noise machine" and is also able to teach you about carpentry.

This cheerful fawn was born on January 8th in the colorful Rainbow Forest - under a rainbow. He loves to play in the sun and to chase butterflies. This friendly deer likes to make new friends too. They are calles "Small mushroom", "Red mushroom" and "Bluebird", "Queeny Lou" (a swan) and "Beary Lou" (a bear). Lou can swing his tail round-and-round like a helicopter when he's really happy or something fun is happening.

Deery Lou was devised by Sanrio designers in 2002. Sometimes he is drawn with a pink fur.
Ad blocker interference detected!
Wikia is a free-to-use site that makes money from advertising. We have a modified experience for viewers using ad blockers

Wikia is not accessible if you've made further modifications. Remove the custom ad blocker rule(s) and the page will load as expected.