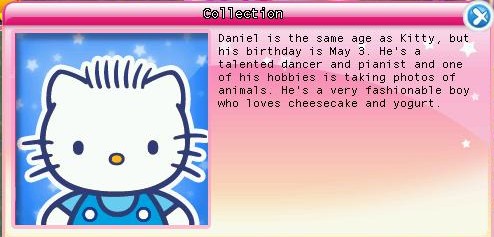 Dear Daniel - also called Daniel Starr - can be found ingame in HKO at the Big Ben But to reach him you will first have to complete a quest to find the key for unlocking the Tower. Yes, you will get a few quests from Daniel. He's also somewhere at the Dream Carnival, enjoying himself and giving out quests again.

Daniel Starr is a sensitive and a bit naive boy, he was born in London on May 3rd - he is a "Taurus". His family consists of his parents and a little brother. He pays attention to his looks and clothing, he likes trendy clothes and his spiky fringe hair. He loves to dance and to take photos of animals, he wants to be a cameraman or maybe debut as a TV-personality. He can play the piano and likes to eat cheesecake and yoghurt. Daniel finds wonder in even the smallest things.

Daniel is one of Hello Kitty's closest friends. They are born in the same year, have known each other since they were babys and seem suited for each other. But after a longer while Daniel had to go to Africa with his father, a photographer. They were travelling around the globe, until Daniel left from New York to return to Kitty again.

The character of Dear Daniel was first thought of by Sanrio designers in 1999.
Ad blocker interference detected!
Wikia is a free-to-use site that makes money from advertising. We have a modified experience for viewers using ad blockers

Wikia is not accessible if you've made further modifications. Remove the custom ad blocker rule(s) and the page will load as expected.