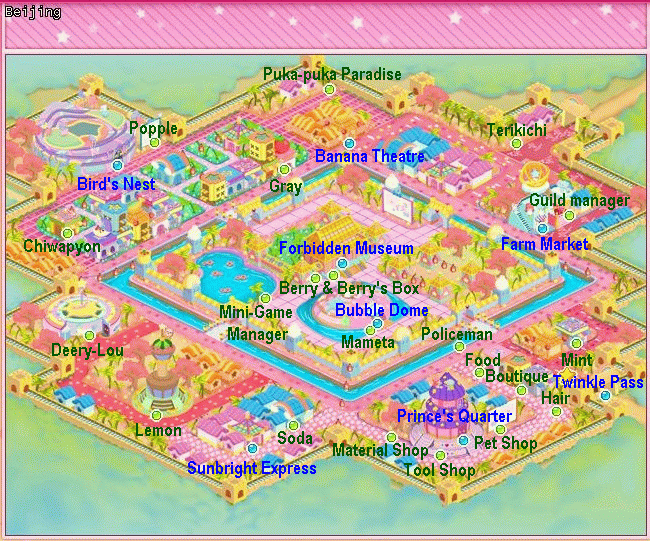 Beijing is a golden oriental city to the north-east of Paris. Again it shows some parallels to the real-world city Beijing and its town's landmarks.
You will be sent here by Lala (in the Pantheon in Paris) and also by Landry (outside of Paris) after completing most of the quests in and around Paris.
Now you will need to create the best tools yourself with no quests as a help! So you will also have to find out about all the sources of the materials needed for yourself by collecting resources at every raw material source you can yet stope from in all the areas around Beijing. You can buy the guides needed for those tools from the Tool-Shop. Please be patient, because you will only be able to craft one tool after another.

There may also be other NPCs on this map in time of events
Party Manager (will trade your collected event-items for stuff like event-outfits, seeds, guides and so on)
there is also a second Food-Merchant at the station of Sunbright Express (exactly the same as in the city)
there is also a second Clothes-Merchant at the station of Sunbright Express (exactly the same as in the city)
maps
houses
none, since it's a city
none, since it's a city
Notes and Hints
Edit
After getting the guide to make the "Noise machine" (pink cat ear's radio guide) for waking up Ku-Suke you will also have to craft this item and then give it to Ku-Suke - even without being told specifically to do so. Otherwise you will not get any farther in the storyline...
At one point a quest will require you to find "The policeman". Even though there is a policeman in Beijing, he will not react. The correct Policeman needed for the quest is in North Wind Grassland.
Ad blocker interference detected!
Wikia is a free-to-use site that makes money from advertising. We have a modified experience for viewers using ad blockers

Wikia is not accessible if you've made further modifications. Remove the custom ad blocker rule(s) and the page will load as expected.