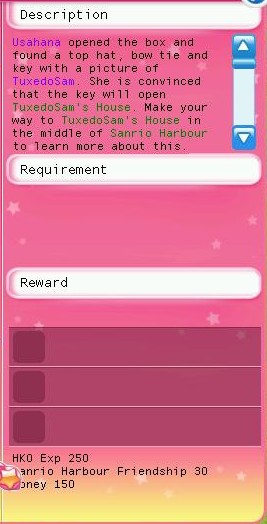 Quest Name: A Great Discovery
NPC that Starts Quest: Usahana
Description: Usahana opened the box and found a top hat, bow tie, and key with a picture of TuxedoSam. She is convinced that the key will open TuxedoSam's house. Make your way to TuxedoSam's House in the middle of Sanrio Harbour to learn more about this.
Quest Walkthrough
Edit
TuxedoSam's House is straight across from Usahana, so head on over. Once inside talk to TuxedoSam.
HKO EXP 680
Sanrio Harbour Friendship 20
Money 150
Ad blocker interference detected!
Wikia is a free-to-use site that makes money from advertising. We have a modified experience for viewers using ad blockers

Wikia is not accessible if you've made further modifications. Remove the custom ad blocker rule(s) and the page will load as expected.